Sweet, Sweet South
Oct 07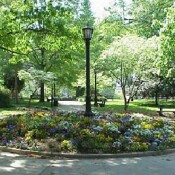 We arrived in Raleigh late yesterday afternoon and drove a couple of hours North to the Blue Ridge Mountains along the New River to our friends cabin. In an instant I was taken back to my Southern youth. The sounds, sights and smells of the South are unmistakeable. Sitting on the porch in the evening the moisture starts to build as the sun drops down below the trees. The sound of crickets fills the night air calling me to a gentle sleep. Sitting in the kitchen, Erin's smoke drifts up through the window reminding me of my father – cigarette smoke always evokes those memories for me.
The cabin sits above the river with a small river bottom just below and a hill rising on the other side of the river filled with trees just waiting for the crisp fall air to take them over the edge to flaming glory. They aren't there yet because the air is still warm in the late afternoon.
I drifted off to sleep to the sound of the crickets as the evening air took on the chill of the moisture filling it up snug in the down of a true Southern bed with all the fluff.
Waking in the South is a slow process. The light of dawn is slow to brighten as it is held back by the thick mists surrounding the river. Looking out the window I remember all the mornings of my childhood growing up in Kentucky in the Ohio River Valley. Moisture hangs low over the morning, holding back the day. So many mornings waiting for the bus there was a thick mist in the air. It takes several hours for the sun to gain enough strength to burn off the fog. This allows for the morning to slowing unfold in to the day.
We sat on the front porch with our coffee listening to the birds and catching up on life – listening to the river flow by, barely visible through the fog. Three hours pass until the sun burns strong enough to banish the mist. Quinn is cooking sausage and eggs and I am once again reminded of my father – the breakfast chef – and a good Southern style breakfast. Breakfast in the South is full of flavor, generally provided by some tasty pork fat. Not so good for the arteries but definitely good for the soul.
Breakfast awaits….. biscuits, bacon, sausage, scrambled eggs cooked in the sausage grease, grits and fresh coffee. Will have to a take a long walk after this one.