Thanksgiving – Gratitude, Mama's Cherry Pie and a little music
Nov 23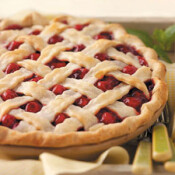 Thanksgiving has come a long way from that first feast of November 1621.  The original Thanksgiving was a celebration of the first successful corn harvest for the colonists of Plymouth.  A feast that would not have been possible had the Native Americans not taught the colonists how to cultivate corn.  Back then growing a sufficient amount of food to survive was quite difficult.  At the time of this first feast over half of the original colonists had died of starvation and disease.
Our Thanksgiving of today shows little resemblance to the original.  Our bounty of cheap American food makes it possible to feed a Thanksgiving feast for just under $5/person despite the recent rise in some food costs – an amazing accomplishment of American ingenuity.  In a few short days we'll be sitting down to mountains of turkey, ham, mashed potatoes, sweet potato casserole, green bean casserole, stuffing, cranberries, rolls, butter, salads of all kinds, and every kind of pie imaginable.  Some will be irritated by that sister/brother/cousin/mother who always butts in or says the wrong thing.  Others will be overjoyed to see old friends or family they haven't seen all year.  It's a holiday filled with emotions – joy at seeing familiar faces, anger when old wounds resurface, sadness when loved ones are no longer here to share the day.
Above all it is a day where we come together, as friends and family, to give Thanks for all that we have.  2011 has been a difficult year for so many across America struggling to make ends meet and adjusting to new realities.  We can dwell on what we no longer have or how things used to be or we can chose to be thankful for all that we do have.  This month many Facebook Friends have been sharing something they are thankful for each day.  This has been a wonderful reminder to me that I should have an attitude of gratitude every day for all the blessings I have.
My friend Millie shared this – "Today I am thankful that we're not financially rich. I know that sounds strange, but it's true. Through our lean years , my children and I have learned about unbelievable thrift. We don't have to adjust to the dire economy – we already have." What a wonderful way to view the current economic situation.  Her glass is definitely half FULL.   I love this song from Bing Crosby's White Christmas, listen along and count your blessings with me.   04 Count Your Blessings
Things are not what they used to be but we still have so much to be thankful for:
for old and new friends – 2011 has been a year of reconnecting with old friends and making fabulous new friends climbing Kilimanjaro
for family – some have more than others and ours is kind of small, all the more reason to be grateful that we still have them
for health – though John has Parkinson's, he is truly a miracle, barely showing signs after 9 years, he has been helping others with his humor and inspiring story and  I am grateful for that as well as my own health
for freedom – we certainly have our problems here in America but we have more freedom here than anywhere else, too often we take this for granted
for our soldiers – men and women who serve and protect our freedom every day, many of whom are far away from home this Thanksgiving
for our government – despite my serious aggravation with all of those in power, we still have the best system in the world and I am grateful for that.  I am also hopeful that somehow, some way, they will find a way to come to a solution that will dig us out of this deep hole.
for pets – furry friends who love us whether we are paying attention or not, I am grateful for our wonderful dog Emily and the many dogs over the years that were faithful companions to my Mother and Father – Sir, Holly, Puddin', Lovely, Tiger, Woozy and Molly
for the birds that sing in my back yard, the bees that pollinate the trees and flowers and make my honey, the deer and the rabbits that eat my flowers
for the sunny, the rainy, the snowy, the warm, and the cold days – for weather of all kinds that show me the wonder of the world
for paper clips, staples, iPhones, iPads, internet and all the things that keep me organized and connected
for food on my table and the gift my Mother gave me of teaching me to cook, because of her, I am able to make a tasty meal out of just about anything.
for my grandmother/Mama's cherry pie – recipe follows
Well you get the idea.  I try to get up every morning and think about what I am grateful for.  I try to remember while I am driving down the road to turn off the radio and just be grateful for my wonderful life.  It takes practice to be grateful everyday but I honestly think it can make you a happier person.  It can adjust your view away from everything that isn't going well, unsettling changes, things that you WANT to focusing on what is going well, the opportunities that change presents and the things that you HAVE.   Harvard Happiness professor, Tal Ben-Shahar, outlined this concept in one of his books on happiness.  People who focus on five things they are grateful for at the end of each day are happier than other people.  Give it a try – not just for Thanksgiving but every day.
Here's a few songs to get you in the right frame of mind for the Thanksgiving holiday.  You can listen to them on your way home, one your way to a friend's or cooking in the kitchen on the Thanksgiving Day.
And for those of you who haven't planned your Thanksgiving menu yet, you might want to try my Mama's Cherry Pie.  I make a homemade crust but you can just use a boxed crust if you don't want to go to the trouble of making one.  Then the pie is really easy.
Mama's Cherry Pie
Preheat oven to 400 degrees
2 cans of tart red cherries, 1 cup sugar, 2 T butter, 4 T. flour, 2 pie crusts (homemade or bought)
Drain 2 cans of cherries in a strainer.  Add sugar and 2T. flour to the cherries, stir and let sit for a few minutes.  Put one crust in the bottom of a pie pan. Sprinkle the crust with the remaining 2T of flour.  Pour the cherry mixture in to the pie crust. Dot the surface of the cherries with the 2T. butter cut into small pieces.  Take the 2nd crust and cut it in to strips about 1/4 to 1/3 inch thick and weave them in to a lattice across the top.  Pinch the edges to seal the two crusts and cut away any stray ends.
Put the pie in the lower 1/3 of the oven and bake at 400 for 15 minutes, then lower the temperature to 350 and cook until the crust is a nice golden brown.  Its great hot out of the oven, cold on the counter, with ice cream, with whipped cream or just plain.  Around our house this pie will  not last the night but when it does, I like to have a piece for breakfast the next day – it is fruit after all.
Be thankful, grateful for the meal you share and the people that you have to share it with even if you don't always get along.   There are many across the world that have little or nothing to eat and nobody to even share with what little they do have.  Remember them this week and donate to a worthy cause – your time at a local food bank or soup kitchen or money to an organization like Feed the Children http://bit.ly/sJpSNH or CARE  http://www.care.org/
When Will Their Be a Harvest for the Word 15 Harvest For the World