"No man is a failure who has friends. Thanks for the wings."
Apr 06
This is one of my favorite quotes from one of my all time favorite movies "It's a wonderful life". This past weekend I celebrated my 50th birthday. I celebrated with friends and family in a way that really drove home for me how truly fortunate I am to have the life that I do.
Friends traveled from Florida, North Carolina, Washington DC, and Texas to share the night with me. I had an idea to put together a tapestry of different size canvases each contributed by one of my friends or family members. I asked each person to decorate the canvas with something that would remind me of them, our shared past or something funny. I got the idea from a coffee shop in Santa Fe that had decorated a wall with squares that were painted by different customers in the coffee shop over several months. I thought it would be interesting. What I got back touched my heart, made me laugh and amazed me.
Spending time with these old friends for my birthday reminded me of how important friendships are.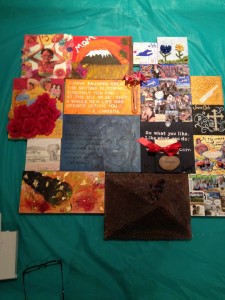 This isn't the finished work of art but it is a sample of a few of the pieces that friends and family composed to tell my story.  It is something truly special that I will never forget.
This would be a great idea for a major wedding anniversary or a graduation or other life event.  It is really amazing what people come up with when you give them full creative license and a blank canvas.
It is friendship that makes life interesting.  Without friends in our lives we may just be a limp thread.  Weaving our threads together we form a unique tapestry that keeps us warm and our lives filled with meaning.
I love you my friends.